Beyond the flashing lights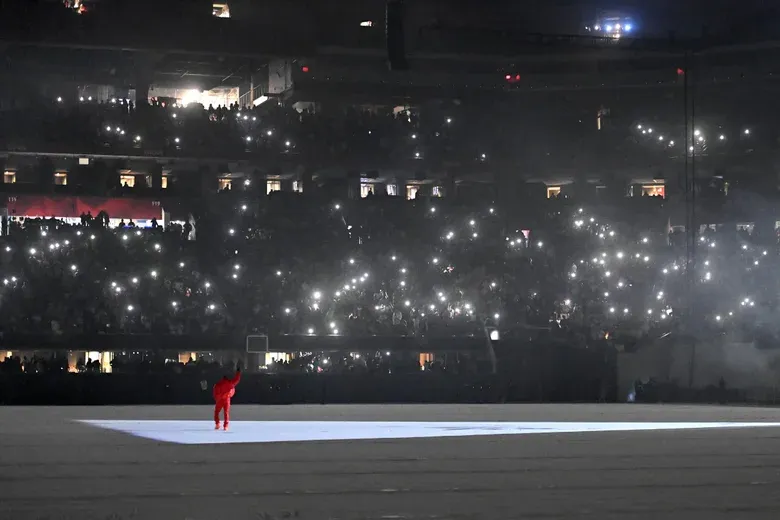 Originally published on 12/09/21 for Instep
Unfinished, unrefined, disordered, perhaps even rushed: all these phrases could accurately describe Kanye West's latest album, Donda. To no one's surprise, this project is not without its baggage; notwithstanding Marilyn Manson's contributions and the highly theatrical listening parties, Donda is a project that has been gestating for nearly four years.
On August 29 in 2018, West posted a tweet containing a snippet of the track that we now know as 'Hurricane', announcing the release of Yandhi, a spiritual successor to his magnum opus Yeezus, on the following Saturday. After that, the project effectively withered into nothingness, since the various leaked tracks never manifested in the form of Yandhi. This, of course, was only one of the countless projects West has worked on that were effectively aborted. From his 00s collaboration with Lupe Fiasco, Child Rebel Soldier, to Yeezus II, West has earned a certain notoriety from, among other things, never finishing albums. Donda was one of these albums; it's been through three album covers, innumerable release dates and countless iterations of the same songs. However on August 29, the fabled project finally manifested as something resembling an album - to call it a collection of tracks may be more apt since this is West's messiest work to date.
And yet, for all of the track's eccentricities, from the Part 2 versions of songs already on the album to its all-black cover, Donda is one of West's most sonically accomplished works yet. In fact, the range of influences and musical styles on the album, from Chicago drill rap in the energetic 'Off the Grid' to gospel rhythms in 'New Again', render the album a symbol of West's evolution as an artist. In many ways, the often jarring switches from hype tracks like 'Junya' to somber meditations on West's celebrity like 'Believe What I Say' are emblematic of The Life of Pablo. This may have been merely incidental. But, West also conjures tracks that are parallels to his past work. Take 'Come to Life', a piano-accompanied melody where West seems to mourn both his marriage and the loss of his mother: "I don't wanna die alone/I get mad when she gone/Mad when she home/Sad when she gone"…This brand of self-deprecating vulnerability has always been one of West's most endearing qualities as an artist.
For all his ego and fame, his music almost always seems to suggest that he is a fundamentally unhappy person. The above track is one of the purest embodiments of this, and is of course a direct parallel to the much-lauded 'Runaway' from West's My Beautiful Dark Twisted Fantasy. In the music video for 'Runaway', West's relationship with, and stubbornness towards, the concept of change is symbolized in the form of a half-phoenix, half-woman muse. In much the same way, West's highly theatrical performance at the third Donda listening party - where he set himself ablaze inside his childhood home - marks another rebirth. This time, though, instead of ripping away the glamour from his celerity as he did in 'Runaway', West attempts to find a sense of closure through his music. 'Come to Life' is not just a funereal tribute to dead dreams; it is West's way of emancipating himself from his misery through his music. Donda isn't just "about" the past as a static vehicle for regret, because tracks like 'Come to Life suggest that the past can be rewritten through art: "Thoughts, you had penciled 'em in/ Probably should've wrote 'em in pen/And maybe they'll come to life".
Of course, as soulful as Ye's delivery of these lyrics may be, they would not be nearly as powerful were it not for the album's impeccable production. Regardless of the public controversies and divisiveness of his music, West's production has always been lauded as an industry benchmark, not least because of both his and his producers (particularly Mike Dean, the backbone of this album) attention to textures. In 'Heaven and Hell', the beat drop preceded by the lyric "make devils pray now" occurs at the same time as the Sunday Service chorus is introduced, creating a nigh-apocalyptic effect that mirrors the Rapture-esque lyrics: "Pray for new life, pray for new breath
Hey, Lord, make sure it's safe for who's left".
On the other hand, the rather minimal production of 'Moon', accompanied by smooth guitar riffs, allows frequent Kanye collaborator Kid Cudi's vocals to shine through, forming an effect solemn in nature. 'Moon' is a track that, like many others, acts as a representation for Kanye's evolution as an artist. In the underappreciated 808s & Heartbreak, the soft electro-pop beats and hazy vocals of Kanye and Cudi are loaded with misery, such as in the seminal 'Welcome to Heartbreak'. In 'Moon' though, Cudi's nigh-angelic vocals are utilized to the effect of childish hope. As with many of Donda's other tracks, 'Moon' serves as a parallel to the Ye album's Ghost Town, subverting that track's unbound aimlessness with something more concentrated.
Not every feature on the album is curated as carefully as Cudi's. In fact, Donda is the Kanye solo album with the least Kanye, with multiple verses from other artists taking up much of the album. This is not to its detriment, however; 'Take Off the Grid', where Playboi Carti's breathy vocals and Fivio Foreign's rapid-fire verse contribute to create an almost ghostly quality to an otherwise materialistic track. Then, of course, is the album's opera-esque epic 'Jesus Lord', a 9 minute track that is reminiscent of 'Jesus is King'. Jay Electronica's verse, my personal favourite on the album, serves as a unification between the material and the metaphysical; he proclaims that "earthquakes will strike this nation for what Bush did to Rwanda" whilst simultaneously declaring that "it's like the last days of Sodom and Gomorrah outside". The fact that 'Jesus Lord' (the album's last track) ends not with a triumphant declaration from Kanye, but with a voice note from a man whose father was incarcerated for 26 years, Larry Hoover Jr, represents what the album's core is: redemption.