Revisiting Yeezus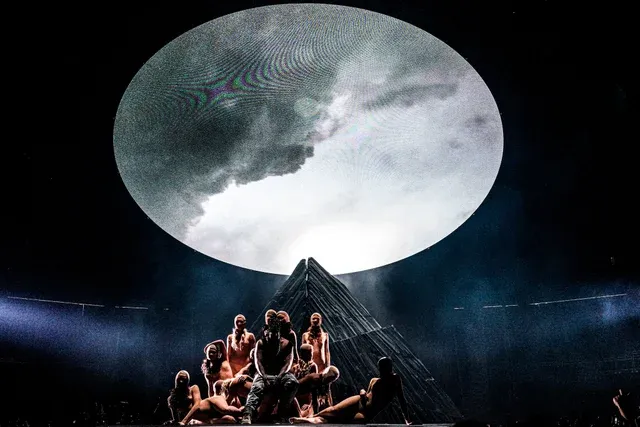 Originally published on 08/07/21 for Instep
Kanye West is undeniably one of the defining multidisciplinary artists of the 21st century in just about every respect. From his politically-loaded lyricism to his development of entire characters and personas for his albums like the Graduation bear, he's been ahead of the curve. In many ways, he's become a totem for antiquated criticisms of contemporary hip-hop as a genre: too abrasive, too vulgar and absent of meaning. To anyone even mildly familiar with West's music or those he has inspired, such as Future and Drake, he is both consistent and isn't consistent with reality. For one, the bravado and edginess associated with West's discography doesn't reflect how deeply sombre his music can be: take the often-overlooked Ye, where West vocalizes his fears of fatherhood in 'Violent Crimes', or his reflection upon how mental illness affects him in 'I Thought About Killing You'. The titles of both those songs, in fact, may even mislead the naive to think that they represent West's cockier music. For all of the efforts of tabloid magazines, he remains an artist who is impossible to box into a single category.
West's upcoming album, Donda, represents what many view as a return to form for West after his somewhat unusual (and divisive) Jesus is King, a Christian gospel album. When Donda is a reality than a myth that's been floating around for a year, it is likely that the same cycles of discourse will be initiated. Perhaps it would be pertinent, then, to examine an album that is a manifestation of Kanye's ever-controversial nature as an artist and a producer, and the album I believe to be his magnum opus (and perhaps my favourite album): Yeezus.
Before even deliberating upon the music, the album cover both informs and deceives the listener as to what sort of album they are about to listen to. A transparent CD case, with a disc reflecting rays of light, topped off by a strip of red tape. No names, no illustrations. It is therefore immediately apparent that the album's aesthetics are aiming for minimalism, rather than the overwhelming grandeur of My Beautiful Dark Twisted Fantasy. This stripped-back approach is evident in the creation of the album itself; 15 days before its release, West brought onboard prolific producer Rick Rubin to help streamline it. Where his previous albums had at least one song that could become a chart-topping single, both the sound and lyricism of Yeezus suggests that West intended to "undermine the commercial" by producing something intentionally abrasive. The alienating effect of the album extends to track titles; 'I Am a God', for instance. With a title like that, West is practically asking to be criticized. Yet, as noted earlier, these titles are deceptive. Sure, 'I Am a God' might *sound* triumphant, but more than anything, the track itself is desperate, ending with West's anguished screams.
The sound of Yeezus mirrors the man behind it. Gone are the rhythmic choruses of MBDTF and the smooth melodies of The College Dropout. Instead, the album experiment incorporates elements from a wide range of genres; the mechanical riffs in 'Send it Up' are taken from industrial rock, whilst the swift tempo and ferocious lyricism of 'New Slaves' are taken from Chicago drill rap. As pointed out by collaborator Anthony Kilhoffer, there are no bass wobbles either. As a whole, the album is almost aggressively electronic, something that West would dial back in subsequent records like The Life of Pablo. To the uninitiated, the isolated instrumentals of Yeezus may well sound like corrupted MP3 files.
The eccentricity of its sound extends to the samples incorporated. For instance, 'I Am a God' samples ritualistic Hindi chants, while 'Blood On the Leaves' samples Nina Simone's 'Strange Fruit'. Whilst the album may be a cohesive vision, each song is its own beast, having entirely different emotional impacts. 'Black Skinhead' has been described by West's collaborators as resembling a soccer anthem, owing to its repetition of distorted drum machine sounds, and is therefore directed more towards adrenaline than anything else. At the same time, West's lyricism is often either politically or personally, if not both, charged.
As much as Yeezus may simply appear to be an act of transgression merely for the thrill of doing so, it's also undeniably a manifestation of West's fears (similar to 808s & Heartbreak). Few tracks illustrate this better than 'Hold My Liquor', simultaneously an indulgence of hedonism and a tormented cry for help. Justin Vernon's vocals at the beginning of the track are far softer than Kanye's, appearing almost faded, as if from a distance. This is countered by the following verse from the iconic Chief Keef. West is aware that Keef's origins from the Chicago South Side and the heaviness of his vocals would make him seem like a hyper masculine figure, a la 50 Cent. Yet, he chooses to have Keef's vocals reverberate to the point where he seems to be on the verge of tears. West incorporates similar techniques in 'Guilt Trip', utilizing vocal splicing reminiscent of 808s & Heartbreak, and ending the song with Kid Cudi's embittered humming of "If you loved me so much, then why'd you let me go?" By altering his artistic voice to the point of unrecognizability, West brings us closer to the "real" Kanye than he ever has before.
With West's Donda listening party on 23rd July, it's clear that yet another era of Ye is upon us. Tracks teased so far have resembled West's unflinching self-confrontation on records like The Life of Pablo and 808s. Yet, it is unlikely that there will be another project from West that will be as strange and fascinating as his 2013 masterpiece, Yeezus. Notwithstanding the ebb and flow of goodwill going in his direction, and the possibility that Donda (like West's long-lost Yandhi) may never drop, one thing remains true either way: that West has never made music to please anyone but himself. As he declares in I Am a God:
"Soon as they like you make 'em unlike you"